Sam The Cooking Guy Restaurant
Sam The Cooking Guy Restaurant
Sam the Cooking Guy to Open 2Nd Little Italy Food Hall Eatery In 2020

You can now order sandwiches or salads. San Diego-based chef Sam Zien, aka 'The Cooking Guy' Zien, will open his second restaurant next year. It'll be located in Little Italy Food Hall just steps from the other one.
Zien, a partner with Grain & Grit Collective – plans to open a restaurant dubbed Grazeby Sam the Cooking Guy early 2020. It will be located in an area immediately across from Little Italy Food Hall at Piazza della Famiglia. The 1,650-square foot extension to the food hall will be found at 555 West Date St.
Zien will open a new restaurant that will serve organic wine, craft beer, and cocktails. The plan is to hold wine and beer tastings in the space, too.
Meanwhile, the menu at Graze will feature a mix of globally-inspired sandwiches and salads during the day. At night, the menu will morph – as the restaurant's name suggests – into a "grazing" menu of sharable plates.
Learn more about Elana Meyers Taylor, Oceanside Olympian, and sign up for the Winter Olympics newsletter
Grain & Grit Collective revealed Tuesday that Graze will be a comfortable, relaxed living room style. It was inspired by Zien's family home.
"We want to serve items that I would serve you in my own home," Zien said in a press release.
Zien's kitchen is also a big part of the brand for anyone who follows his cooking career.
Zien has written several cookbooks. He is best-known for "Sam the Cooking Guy," a TV series that he created. The show has been filmed from his home for the last 17 years. The show's "everyday guys" cooking style is loved by his viewers. Zien often cooks from whatever items he finds in his refrigerator, sometimes with odd and unusual ingredients. However, the taste buds will change after one bite.
Zien has now launched Graze with Grain & Grit Collective. In summer 2018, Zien's first ever restaurant, Not Not Tacos, opened at Little Italy Food Hall. This restaurant still exists in its original spot at the food court.
Sam The Cooking Guru Developing Second Eating Places in Little Italy

Sam the Cooking Guy Sam Zien opened the Little Italy Food Hall last summer, opening the first ever eatery by the popular television host and author Sam Zien. Not Not Tacos is a joint venture with Grain & Grit Collective. The local hospitality group also manages the food hall.
Zien, an Emmy winner who is also the hall's ambassador has amassed over 1.2million YouTube subscribers. These people tune in to view him cooking and preparing dishes in the kitchen of his San Diego house. Now, Zien is bringing a piece of his home to Little Italy by opening a new eatery, bar, and bottle shop called Graze by Sam the Cooking Guy just across the Piazza della Famiglia from the Little Italy Food Hall. This joint venture with Grain & Grit Collective spans 1,646 feet. It should be open by 2020.
Centered around a glassed-in kitchen, the restaurant will feature folding glass doors that open onto an outdoor patio and will be styled like the house Zien shares with his wife Kelly as a cozy, living room-like lounge space with personal touches and comfy furniture. There will be a selection of sandwiches, salads, and other small plates available throughout the day. The evening will feature sharing and "grazing", dishes. Zien says that while the exact menu is still under development, Eater can look forward to many of the classic recipes he has shared over the years. Sam the Cooking Guru will host Graze, which includes a fully stocked bar and retail wine shop.
Sam 'The Cooking Guy' Zien Adapts To A Crazy Culinary Year

Sam Zien "The Cooking Guys" holds onto the burgers from Eatsby Sam. He co-founded this new takout-heavy, takout-heavy restaurant with Grain & Grit Collective.
Sam Zien (The Cooking Guy) was stunned when COVID-19 showed up in March. His new Graze by Sam Little Italy restaurant closed just a few short weeks later.
Grain & Grit Collective partnered with Grain & Grit to make sure that the gregarious host of TV's cooking show has learned how adapting and surviving in the tough, post-pandemic world of the restaurant business.
"The word pivot can't be overused," Zien said last week. Zien noted that 2020 is known as the Year of the Pivot. He also stated that Zien's Not Not Tacos stand within Grain & Grit's Little Italy Food Hall, is now doing "solid," business after the hall reopened to take-out.
On Oct. 22, the partners opened their latest collaboration, Eats by Sam , which was tailor-made to ride out the pandemic for as long as necessary. Located in Seaport Village, Eats is essentially two takeout-only restaurant concepts Samburgers and Samwiches which sell their products only through third-party delivery apps and a walk-up computer kiosk at Seaport Village. Zien stated that Eats would likely add a third brand of takeout, "Sam", to its mix in February.
A burger and sandwich from Eats By Sam, new takeout-only restaurant concept run by Sam "The Cooking Guy" Zien and Grain & Grit Collective.
Eats' business is operated from Buster's Beach House. Zien and Grain & Grit leased the 8,000-square-foot, shuttered Seaport Village restaurant earlier in the year. It was originally their intention to refurbish Buster's in order to create a fully-serviced, sit-down dining establishment. But that's not feasible right now. So until the pandemic clouds lift, they're using the Buster's space as a ghost kitchen and a commercial commissary for Graze By Sam and Not Not Tacos, which are a mere 1-mile golf cart trip away.
Samburgers sells five burgers (and one hotdog) and offers a pick-your-protein option, as well as a variety of patties and toppings. Zien claimed that the Not So Basic Basic Burger has been the best-selling item so far.
Samwiches has nine sandwiches to choose from, including the spicy Soyrizo Torpedo and bacon grilled cheese as well as a smoked club, a toasted shrimp salad sandwich, and a bacon-grilled cheese option. Zien favors the Grilled Pastrami Reuben. The Reuben is dressed with cole and not the usual sauerkraut. Sides for both Eats concepts include fries, tots, fried pickles, baked beans and three deli salads.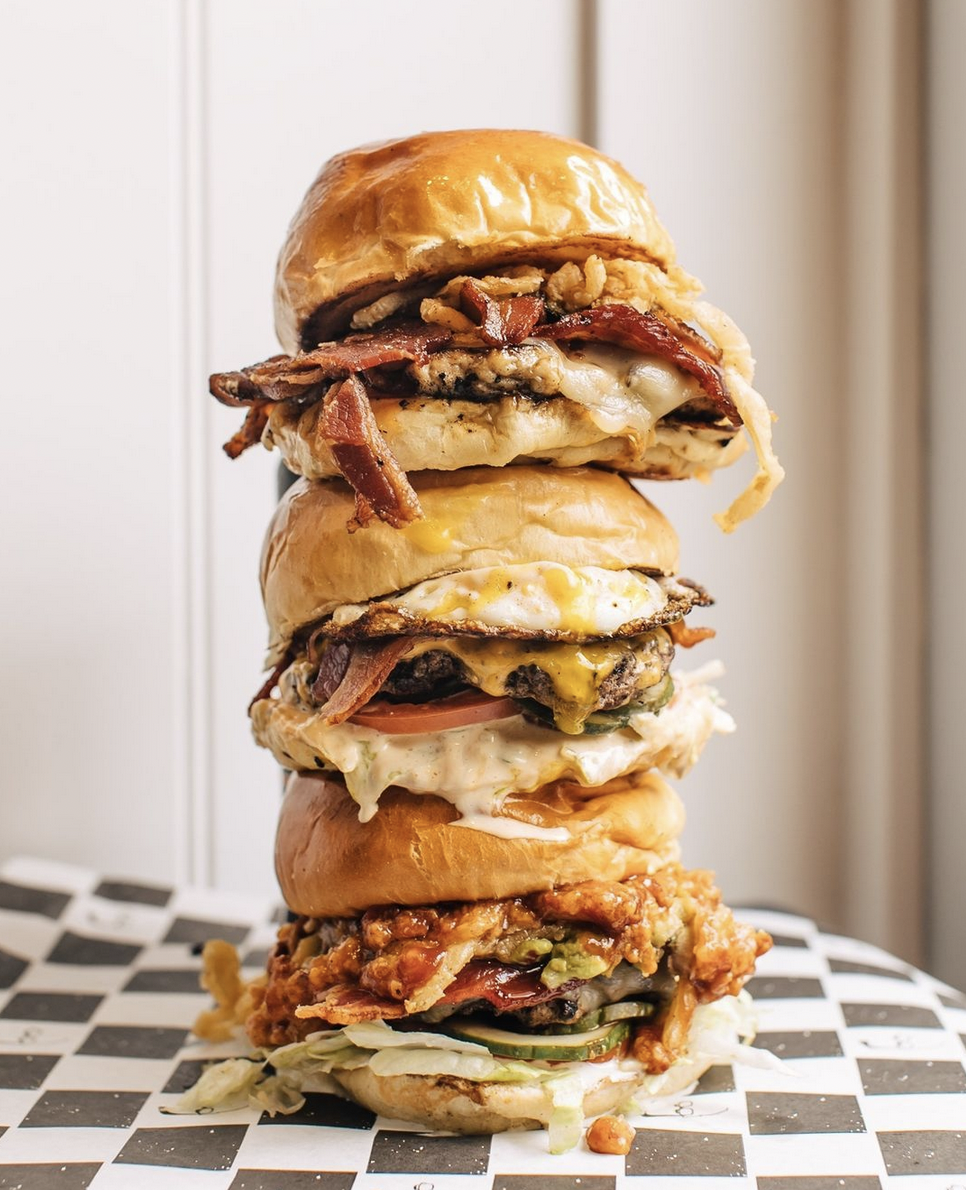 Restaurant Collective Grain & Grit Set To Take Over An Expansive Two-Story, Waterfront Space This Summer

Facebook Twitter Show more sharing options After a 30-year residency at Seaport Village, the surf-themed waterfront restaurant, Buster's Beach House, is set to vacate its prime location as a newly approved tenant prepares to make over the venue into a "Sam the Cooking Guy"-branded eatery.
Thursday's vote of unanimous consent by Port of San Diego Commissioners was to approve a 10-year lease for Grain & Grit Collective. The restaurant covers 8,000 feet and is two stories high. The board action also means the port, which owns Seaport Village, will terminate its existing lease with Buster's owner, Aloha Partners, in the next few months.
Mike DiNorscia (who heads the collective) said that he hopes to open his next restaurant just in time for the summer. "We already operate Carnitas Snack Shack (on Embarcadero), so it is an experience we have down there." Seaport Village is underutilized. We wanted to be part of its revitalization." DiNorscia teamed up with Sam Zien (aka Samthe Cooking Guy), in order to set up a restaurant and bar that would appeal to both tourists and locals. The concept, which is still in development, will be themed around the television personality, whose other projects include Not Not Tacos and Graze, both in Little Italy. The future eatery is anticipated to serve American food, although the menu has not been set.
Grain & Grit will lease the property for a minimum $132,000 per year. Rental fees are also based upon sales, and increase each year. Grain & Grit will be receiving $495,000 from port to improve its interior. The large courtyard behind the building will also be available for events and food sales.
This star power is expected to bring life back to Seaport Village, a 40-year old area. The revitalization of Central Embarcadero will take place over the next ten years. In October 2018, the San Diego Unified Port District assumed operation of Seaport Village. They plan to revitalize the coastal collection and make it more lively until construction of the Seaport San Diego project.
As of now, the agency spends $2.2million on cosmetic improvements. They also work with an outside brokerage to lease vacant spaces. The majority of them are in the Lighthouse District, which is the east portion of the city. The agency has secured leases from a couple of tenants such as Mike Hess Brewing, Mr. Moto Pizza and others. These new tenants are likely to be open their doors later in the year.
Buster's Beach House has been closed down since the port approved a lease deal with Grain & Grit. A spokesperson from the agency stated that last year, the proprietor had been given the opportunity to sign a long-term contract but chose not to. Even though the current lease is due to expire in October, the port can now terminate it. This gives the restaurant 90 days notice that they must vacate the premises. However, the port did not reply to our request for comment.
On Thursday, the port commissioners approved a 10-year agreement with Seaport Market. This lease will allow for convenience and liquor stores to take over 2 small spaces in the Lighthouse District. Commissioners had debated the issue of whether alcohol could be sold off-site at Seaport Village. Final decision was made to restrict liquor sales to 50% of the store's future revenue.
The new agreements are said to be worth a combined $1.29 million in lifetime value to the port.
Latest Tourism Real Estate News Business News Restaurants Top Stories
Sam, the Chef Guy, Owns a Restaurant

Restaurants. Zien launched his first restaurant, Not Not Tacos in July 2018. This casual eatery offers Zien's take on non-traditional tacos. … Zien created Graze by Sam in Little Italy Food Hall as a second restaurant.
In What Restaurant Will Sam The Cooking Guy Go?

ARE THEY TACOS? They're tacos, but they aren't. Not Not Tacos was founded in 2018 by Grain & Grit Collective, a San Diego-based hospitality company, as well as TV personality and author Sam Zien. They offer a variety of cuisines that challenge the boundaries of culinary creativity.
Are Sam and his wife still cooking?

My show, "Sam the Cooking Guy", has been broadcasting for 12 years. I also own 14 Emmys and have been featured on the Today Show more than a dozen times. I created the Discovery series "Just Cook This." My wife Kelly and I have been married for 29 years. We are the proud parents of 3 boys and 3 dogs.
What makes Sam The Cooking Guy a Living?

Sam Zien/Professions
.Sam The Cooking Guy Restaurant